Punk & Disorderly
THE KILLORAMA PARTY-SERVICE
DESPITE HOUSE BAN NOT DEAD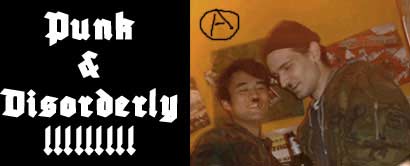 Dj Maik and Dj Enrico have a good laugh: After numerous bans from clubs where these two men wanted to dj, it's now up to YOU and book those bloody boys and their brilliant record-collection, and let them spin the tables.
KILLORAMA-PARTY
it's time to rock again!!!
They might occasionally be aided by guest-DJ's, such as DJ Ron S.!! Silvio!!! Sexy Mandy!! and legendary DJ P. Lauer!!!!
Hits will be played, from noise-industrial to powerelectronics, streetpunk, neofolk & metal.........no nazi(s) music!!!
where and when and how?
WHERE and WHEN?
whereever and whenever you want them!
ISN'T IT EXPENSIVE TO BOOK THOSE DAMN GOOD DJs?
no, not at all! give them enough too drink and everybody's happy!
contact
just send an email to
maik at killorama.de